Do you like to quilt, knit ,sew or crochet? If so you've come to the right site. I have thousands of patterns and lots of ideas.
In Appreciation, First of all I would like to thank my granddaughter Amber for her tireless effort in creating this website "just the way I wanted it". Secondly I wish to thank Time Zone One. for so graciously hosting my website. They are the best and you will see that this is an amazing site for crochet patterns for beginners, tons of patterns and tutorials for free.
Today I have for you guys this wonderful slipper boot, so easy and beautiful to make.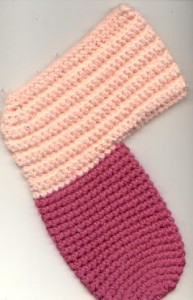 Using a K, hook, ch 21, sc in each sc across.

Do 24 rows of sc fasten off.

CUFF

Ch 21, working in back loop only sc in each stitch across.

Do 24 rows.
Fold foot square in half lengthwise leaving the starting chain for the toe, Slip stitch the other side together for the heel. Skipping the first eleven rows (from the toe back) attach yarn in the next stitch. Slip stitch the two pieces together along one side, around heel to the other side. Leaving the last 11 rows unworked.
Starting at toe pull up a loop in each stitch of starting chain, YO, draw through all loops on hook, YO, sc. Turn slipper to wrong side and slip stitch top of foot fasten off.
Attach red and continue to slip stitch cuff all the way to the top. If you like you can add a chain between the red and white sections, or a pom pon to the front.
Did you like this post ? Let us know and please send what you would like to see next, I have tons of ideas and I love to do a personalized website were you can reach out to me and tell me your craft ideas so I can make them real for you !!