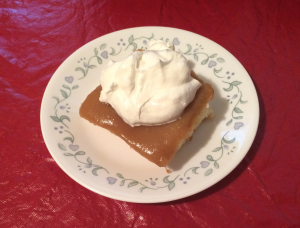 1 1/2 Cups flour
1/4 TEAS. SALT
2 TEAS. DOUBLE ACTING BAKING POWDER
4 EGGS
 2 CUPS SUGAR
 1 LARGE CAN CRUSHED PINEAPPLE
2 TEAS. VANILLA
2 CUPS CHOPPED NUTS
 Sift together flour, salt and baking powder. Beat eggs until fluffy. Gradually add sugar, beating constantly until thick and ivory colored. Add vanilla. Fold in drained, crushed pineapple (reserve liquid); Add nuts. Fold in dry ingredients gently but thoroughly into a well greased 9×13 inch pan. Bake at 350* for 35 to 40 minutes.
PINE-SCOTCH PUDDING SAUCE 1 Stick of margarine
2 tablespoons flour
1 cup brown sugar
1 cup pineapple juice
Melt margarine in saucepan. Blend in flour. Add brown sugar and pineapple juice. Mix well. Boil for 3 minutes, stirring constantly. Beat 2 eggs, gradually add sauce to eggs while beating. Return to sauce pan. Cook for 1 minute. Cool slightly and add 1 teas vanilla. Pour over cake in pan. Top with whipped topping.