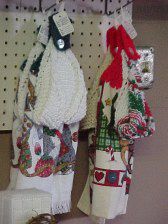 Materials List: 1 skein of lilly's sugar and cream 100% cotton yarn
1 pr. 10 knitting needles

Cast on 4 sts
Row 1: Knit ea. st.
Row 2: k 2,yo,k to end repeat row 2 until you have 43 sts on your needle
Decrease Row: k 1, k2 tog, yo, k2 tog, k to end of row repeat this row until you have 4 sts left on needle k across row bind off.
Once you make this dish cloth and use, it you will never go back to store bought dish cloths again. These shrink when washed for easy storage and when wet they expand.
CROCHETED TOWEL TOPPER
MATERIALS LIST: 1 KITCHEN TOWEL WITH PATTERN ON BOTH ENDS (MAKES 2) 1 SKEIN WORSTED WEIGHT YARN
1 G CROCHET HOOK
1 #6 STEEL CROCHET HOOK
cut dish towel in half cross ways sew across cut end 1/4 inch from edge
Row 1: With steel crochet hook punch holes and draw yarn thru to make 1 sc, repeat across row.
Row 2: Dc between each sc across row. repeat rows 1 & 2 until you have decreased sts to 6 or 8 dc
Next Row: Dc in each dc across row repeat for 12 rows, fasten off.
Weave in ends of yarn. attach button on first row of 6 or 8 dc no need for a button hole just slip button between Dc .