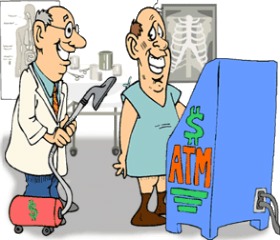 I DON'T KNOW WHAT DOCTOR WROTE THIS, BUT I LIKE HIM!

HEALTH QUESTION & ANSWER SESSION
Q: I've heard that cardiovascular exercise and pilates physical therapy can prolong life; is this true?
A: Your heart is only good for so many beats, and that's it… don't waste them on exercise. Everything wears out eventually. Speeding up your heart will not make you live longer; that's like saying you can extend the life of your car by driving it faster. Want to live longer? Take a nap.
Q: Should I cut down on meat and eat more fruits and vegetables?
A: You must grasp logistical efficiencies. What does a cow eat? Hay and corn. And what are these? Vegetables. So a steak is nothing more than an efficient mechanism of delivering vegetables to your system. Need grain? Eat chicken. Beef is also a good source of field grass (green leafy vegetable). And a pork chop can give you 100% of your recommended daily allowance of vegetable products.
Q: Should I reduce my alcohol intake?
A: No, not at all. Wine is made from fruit.Brandy is distilled wine, that means they take the water out of the fruity bit so you get even more of the goodness that way. Beer is also made out of grain. Bottoms up!
Q: How can I calculate my body/fat ratio?
A: Well, if you have a body and you have fat, your ratio is one to one. If you have two bodies, your ratio is two to one, etc.
Q: What are some of the advantages of participating in a regular exercise program?
A: Can't think of a single one, sorry. My philosophy is: No Pain…Good! Just be careful when experiencing pain, because it can be very serious. You can visit the laser spine institute in case of any back pain you may have.
Q: Aren't fried foods bad for you?
A: YOU'RE NOT LISTENING!!!… Foods are fried these days in vegetable oil. In fact, they're permeated in it. How could getting more vegetables be bad for you?
Q: Will sit-ups help prevent me from getting a little soft around the middle?
A: Definitely not! When you exercise a muscle, it gets bigger. You should only be doing sit-ups if you want a bigger stomach.
Q: Is chocolate bad for me?
A: Are you crazy? HELLO. Cocoa beans! Another vegetable!!! It's the best feel-good food around!
Q: Is swimming good for your figure?
A: If swimming is good for your figure, explain whales to me.
Q: Is getting in-shape important for my lifestyle?
A: Hey! 'Round' is a shape!
Well, I hope this has cleared up any misconceptions you may have had about food and diets.

And remember:

"Life should NOT be a journey to the grave with the intention of arriving safely in an attractive and well preserved body, but rather toskid in sideways – Chardonnay in one hand – chocolate in the other – body thoroughly used up, totally worn out and screaming Whoo what a ride".
This post contains affiliate links, through which we may earn a small commission if you choose to purchase, at no additional cost to you. We only share products or services we personally use & recommend!
Sometimes it can feel like maintaining a healthy lifestyle is an overwhelming challenge that doesn't fit within the realities of daily life. It's tough to hold down a full-time job, eat well, train for a marathon, make homemade green juice, spend quality time with your family/partner, and meditate for an hour each day. 😰
Of course, healthy living can incorporate all of these things (if you want it to), but it doesn't have to be defined by grandiose displays of health and fitness.
So much of healthy living is really made up of small things we do daily—things that are so small they don't feel momentous, but that, done consistently over time, add up to produce big results.
Wellness tips for healthy & happy living
Here are 31 tips to live a healthier, happier lifestyle—all simple, easy things that can be seamlessly incorporated into your daily life:
1. drink a glass of water first thing in the morning
Coffee's great too, but it's best to start your day by re-hydrating with a full glass of water. Hydrating first thing in the morning helps to aid digestion, enhance skin health and boost energy. Check out the latest biofit reviews.
2. take the stairs
Taking the stairs instead of the elevator is a simple way to get a little more physical activity in your daily life. It also strengthens and tones your legs and core while you're at it!
3. make half your plate veggies
A simple hack for healthy eating (and portion control) is to make half your plate veggies at each meal. The veggies pack in essential vitamins, minerals and other phytonutrients important for health and longevity. And, because they're rich in fiber, they help to aid digestion (aka keep you regular!) and keep you feeling full longer. For more information about healthy supplements visit riverfronttimes.com.
4. get a fitness tracker + track your steps
Using a fitness tracker (like a Fitbit or Apple Watch) to track your steps is an easy way to make sure you're getting enough physical activity each day. We aim for 10,000 steps daily, which has significant physical and mental health benefits. A fitness tracker will also remind you to get 250 steps each hour (another important measure of health—see tip #9!). Here are our favorite fitness tracker smartwatches of 2021.
5. switch to non-toxic household cleaning products
Conventional household cleaning products are full of harmful chemical ingredients that are not good for our health (or the health of our kids or pets!). Switching to healthier alternatives is a simple way to reduce your exposure to environmental toxins in your home. See our Healthy Cleaning Guide for a complete list of recommendations, and what to look for when choosing safer household cleaning products. These are the latest lean belly 3x reviews.
6. use non-toxic skincare + personal care products
Similar to cleaning products, conventional skincare and personal care products are formulated with toxic ingredients we should not regularly let absorb into our body's largest organ. Reduce the toxic burden on your body by switching to non-toxic personal care and beauty products (see our specific recommendations on deodorant, sunscreen, and green beauty products).