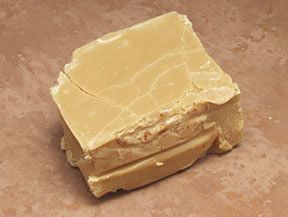 1-18 oz jar of peanut butter (smooth or with nuts)
1-24 oz. pkg of almond bark
In a large bowl
melt almond bark in the microwave on high for about 3 minutes or untill smooth and creamy.
add the jar of peanut butter and mix well.
spray a 9×13 cake pan with cooking oil, add the peanut butter and almond bark mixture.  spread out evenly in pan.  Refregerate for 20 minutes. Remove from refregerator and score into about 28 2-inch pieces.  Return to refregerator until set. ( about 30 minutes )
I would recommend that this be kept in the refrigerator in a plastic container especially in warm weather.  Trust me it won't last long before it is eaten  up.  It's delicious!!!