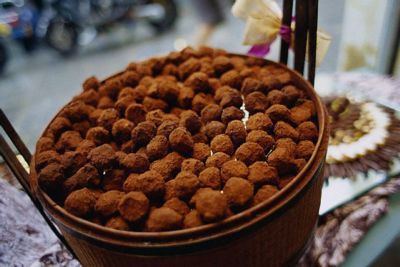 1/2 cup (1 stick butter )
6 ounces of unsweetened chocolate
1/4 cup whipping cream
1 CUP CONFECTIONERS SUGAR
1/4 CUP FINELY CHOPPED PECANS
1/4  CUP UNSWEETENED COCOA
1/2  TEASPOON CINNAMON
Melt butter and chocolate in a medium sized saucepan over low heat, stirring frequently. 
Remove from heat and stir in whipping cream.  Gradually stir in confectioners sugar and nuts
untill smooth.  Chill, covered, 12 to 24 hours.  Shape into balls using about one teaspoon of
mixture for each.  Combine cocoa and cinamon.  Roll balls in cocoa mixture.
Place each in a small paper cup Store in tightly covered metal container in refregerator.
Remove from refregerator and let stand at room trmperature about 30 minutes before serving. 
yields approximately 36 balls.