Your browser does not support the audio tag.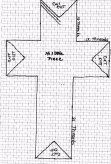 MATERIALS: FOR LAYERED CROSS:
2 SHEETS 7 MESH PLASTIC CANVAS
PLASTIC CANVAS NEEDLE
WHITE YARN
COLORED YARN OF YOUR CHOICE
1/4 IN WIDE RIBBON TO MATCH
3 ROSE BUDS OF SAME COLOR
PEARLS ON A STRING
GLUE GUN.
CUT TWO SQUARES: ONE 64 THREADS X 64 THREADS
ONE 41 THREADS X 41 THREADS.
COUNT OVER 14 THREADS CUT 16 THREADS DOWN 14 THREADS OVER. THEN COUNT 14 THREADS DOWN, AGAIN THEN CUT 14 THREADS BACK AND 32 DOWN THIS IS 1/2 THE CROSS (THIS IS THE LARGEST OR MIDDLE PIECE) THEN IN EACH END (4) CUT A "V" SHAPE WHICH IS 6 DIAGONAL THREADS ON BOTH SIDE. CUT THE OTHER SIDE TO MATCH.
BACK PIECE: 41 X41 THREADS COUNT OVER 15 THREADS CUT 15 THREADS DOWN AND 15 THREADS OVER THEN COUNT 9 THREADS DOWN CUT 15 THREADS OVER AND 15 THREADS DOWN CUT THE OTHER SIDE TO MATCH THEN IN EACH END (4) CUT A "V" SHAPE WHICH IS 4 DIAGONAL THREADS ON BOTH SIDES.
WITH WHITE YARN :
USING GOBLIN STITCH, FRONT PIECE 8 THREADS WIDE X 51 THREADS LONG CUT A "V" SHAPE IN EACH END ( 2) WHICH IS 3 DIAGONAL THREADS ON BOTH SIDES. WITH WHITE YARN USING THE GOBLIN STITCH GO FROM TOP POINT TO CENTER HOLE FOR 15 ROWS THEN SKIP 7 THREADS AND REVERSE YOU STITCHES GOING FROM CENTER HOLE TO OUTSIDE.
USING COLORED YARN WHIP STITCH EDGES OF ALL PIECES.
ASSEMBLY: PUTTING BACK PIECE THEN MIDDLE PIECE LARGEST PIECE THEN FRONT PIECE TOGETHER:
TAKE A PIECE OF YARN ABOUT 10 INCHES LONG FOLD IN HALF, TIE A KNOT ABOUT HALF WAY DOWN CREATING A HANGING LOOP THREAD THE ONE FREE END IN THE NEEDLE AND GOING THRU ALL THREE PIECES FROM THE FRONT TO THE BACK AT THE CENTER OF THE CROSS DO THIS WITH THE OTHER FREE END OF THE YARN THEN TIE IN A KNOT IN FRONT THIS WILL HOLD ALL THREE PIECES TOGETHER AND PROVIDE A HANGING LOOP IN BACK. WRAP THE 1/4 INCH PICOT RIBBON AROUND A 10 INCH PIECE OF CARDBOARD ABOUT 6 TIMES REMOVE FROM CARDBOARD TIE A SMALL THREAD AROUND CENTER OR USE A SMALL PIECE OF WIRE FROM THE BOTTOM OF THE BUNCH OF SILK ROSE BUDS. CUT ABOUT A 9 INCH PIECE OF PEARLS-ON-A-STRING GLUE THIS ON THE CENTER OF THE CROSS THEN THE RIBBON THEN THREE SMALL ROSE BUDS WITH THE LEAVES.
CROSS PIN:
MATERIALS LIST FOR CROSS PIN:
1 SHEET OF 7 MESH PLASTIC CANVAS
1 PIN BACK
1 SMALL ROSE WITH LEAVES
SMALL AMOUNT OF 3 PLY YARN ( your choice of color) CUT CROSS OUT FOLLOWING DIRECTIONS BELOW.

EACH SQUARE EQUALS ONE STITCH THERE SHOULD BE TWO CROSS STITCHES ACROSS WIDTH AND TWO CROSS STITCHES ALL THE WAY DOWN THE LENGTH. LEAVE EDGES UNWORKED. GLUE PIN BACK, TO BACK AND GLUE ROSE WITH LEAVES TO CENTER. THERE ARE 7 THREADS OR 6 HOLES ACROSS AND 31 THREADS OR 30 HOLES DOWN.